It's the second week of Mayhem Mania!  Just for the occasion, we've got a direct connection to Yinza the Pittsburgh Luchador with Dave Fedor joining us in studio.  Of course we've got our usual crew of Sorg, Matt, Larry, Mad Mike, and Rizz talking this week in wrestling, including: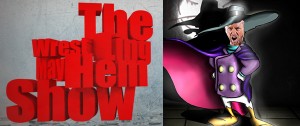 So, Coach is back, and apparently Booker T isn't happy about it.
#SadTozawa
205 Live going back to a Cruiserweight Classic model? We're digging it.
Will we be seeing a Neville return?
We're tracing down the name history of Drake Mallard. Let's just say Darkwing Spud is our new favorite thing.
WWE's new cutest couple? Braun Strowman and Alexa Bliss! #MotherOfStrowmans
We're breaking down the comparison between scripted content and off-the-cuff reality content with WWE.
Elias swings the crowd almost as well as Vince McMahon. #LikeableHeel
It's time for this week's MayhemMania!
What did YOU learn in wrestling this week?
Thanks to Tonio Garza (@TheWRevolution) for putting together graphics for MayhemMania.
Follow our stable on Twitter: Jaye Cooper (@CoopTroopComedy), Sorg (@Sorgatron), Larry (@MutilatorLarry), Bobby (@BobbyFJtown), Mad Mike (@MadMike4883), Billy (@billyj64), and Mainstream Matt (@MainstreamMat)
Go to wrestlingmayhemshow.com for more entertainment!
Remember to LIKE and FOLLOW us on Facebook for updates and video.