The Rev Ron Hunt FINALLY made it into the studio.  He's joined by Chad the Shad, Mutilator Larry, and Sorg in studio.  Rizz makes his triumphant digital return to the show as well.  We're talking all the things in wrestling, including: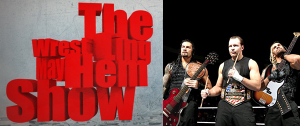 We're talking some Hell in a Cell at the top of the show.
Our in-studio guest, Ron Hunt, is talking about some of the crazy matches he's seen/been part of.
When you're in a cell (cage) it's like being in a jail cell.
Hype Bros are still together because they're too hype to be broken up.
Shane's elbow-to-eye coordination is off.
Falls count anywhere doesn't mean the ref goes anywhere to make that count.
Ron Hunt is weighing in on his thoughts about pacing in professional wrestling.
We're talking some teeth knock-outs. Briscoe Bros top the list.
Wrestlers have to learn when and where to go all in for their spots. Can't do it all the time without consequences.
The Shield reunited. But, so did Dana Brooke and Emma!
It's no longer "PPV" events, they're "special" events.
We're talking some actions WWE could take to even out the 4-on-3 match.
It's time for this week's Big Question: What product would you pair for an ad campaign with the WWE?
We're talking some Enzo thoughts.
Monday Night Football is a myth! WWE RAW
What did YOU learn in wrestling this week?
Follow our stable on Twitter: The Rev Ron Hunt (@RonnellHunt7), Sorg (@Sorgatron), Chad the Shad (@ChadTheShad), Larry (@MutilatorLarry) and Rizz (@TheeRizz)!
You can support the show at Patreon.com/wrestlingmayhemshow!
Go to wrestlingmayhemshow.com for more entertainment!
Remember to LIKE and FOLLOW us on Facebook for updates and video.