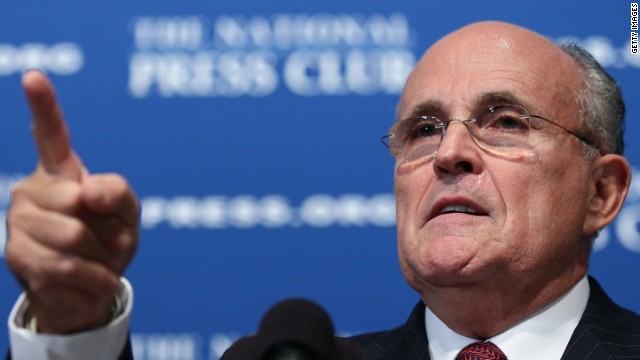 "I do not believe that the President loves America."  With those words, former New York Mayor and onetime Presidential candidate Rudy Giuliani lurched from a benign, northeast Republican moderate to a vitriolic bomb thrower like Joe Walsh, Steve Stockman, and Steve King. Immediately, Republicans, especially Presidential contenders, were forced to comment on it. Scott Walker punted.  Bobby Jindal had a day to think  about it but basically punted. Marco Rubio said he would not comment on what Giuliani said, but assured that Obama loved his country. The GOP gentry rallied around Giuliani, but he made a statement that would get any other Republican in flyover country, especially a Presidential contender, labeled as "amateur hour."
Also:Â 
CPAC opens this week at the Gaylord National Conference center in Maryland outside of Washington, DC. Â Once again, it's not without its drama and once again it has to do with gay rights. The now defunct GOProud was banished years ago. This year, Phil Robertson will be receiving a Breitbart First Amendment Award, ostensibly for speaking out against homosexuality in spite of a firestorm from his cable network and some sponsors. Â Conservative analyst Richard Grenell, who is gay, told Fox's Red Eye he was invited to speak then uninvited.
And – the Free For All!
1. Carly Fiorina is back – what does she want? Â Her last race resulted in an uncompetitive showing against Barbara Boxer in 2010 for Senate in California. Â Boxer bested her by ten points. Â Is Carly merely trying to remake her chops as a VP possibility?
2. Â The Tea Party News Network saw most of its editorial staff quit after a Daily Beast expose that basically claimed the nonprofit teaparty.net was a front. Â Stories running on the nonprofit site are often hosted by affiliated websites. Â All the sites are owned by Todd Cefarrati, who also owns teaparty.net, a nonprofit that took in 6 billion in donations in the past election cycle.
3. Â Mother Jones Magazine accused Fox News commentator Bill O'Reilly of fudging his coverage of the Falklands War in Argentine in 1982. Mother Jones writer David Corn says O'Reilly lied about being in the Falklands. Â O'Reilly said he merely reported from Buenos Aires, and made that clear.
The Original and Classic Gang of 405. Â Call the show! Â 877-297-8022.
THE GANG!!!
John Grant aka @johng405
Tami Jackson aka @tamij
N. Scott Jones aka @POPSRadio