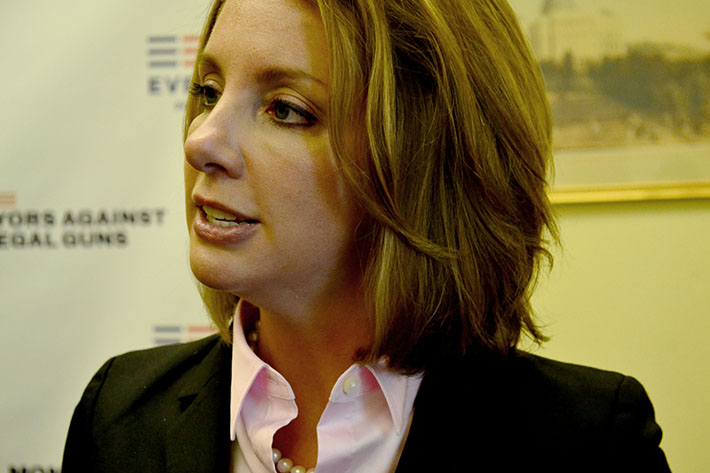 Shannon Watts is wrong about everything. She's an Indiana Mother of five with a PR background who founded the group Moms Demand Action For Gun Sense In America. It's a gun grabber group whose site brags about "unprecedented wins" in the gun control arena, despite the fact that gun ownership is soaring and court case after court case is striking down state an local gun control laws. Â She blames the NRA, and the media, and points to a handful of retailers who have spurned open carry on their premises. She won't confront her adversaries directly – much to the chagrin of certain personalities who trade on this theater. Â She does interviews with sites who let her run wild and make claims she can't back up. She blocks anyone in social media who gets in her face. Â Moms Demand Action relies on a preened, disciplined media presence. Â Someone gets shot – Shannon Watts blames some lax gun law someplace on it. Â Rinse, repeat. Â Gun rights people and groups react with outrage Klout, and SEO. Well played?
Also:Â 
Two years ago some considered it a slam dunk that John Boehner would be voted down as Speaker of The House. Then, as now, the mutineers were just a few votes away from sending him packing. Â Then, as now, Boehner will probably get all the votes he needs in the House cloak room. Is the mutiny just a charade, too?
And – the Free For All!
1. There's doubt whether North Korea was behind the Sony hack – but not for the Obama administration – they have attacked the country's internet and imposed sanctions.
2. Â Majority Whip Steve Scalise admitted attending a white supremacist function he actually did not. Amateur hour – from House leadership!
3. Â NYC cops have slowed misdemeanor citations to almost nothing and are making 66% fewer arrests. Â Justifiable or should they be doing their jobs.
The Original and Classic Gang of 405. Â Call the show! Â 877-297-8022.
THE GANG!!!
John Grant aka @johng405
Tami Jackson aka @tamij
N. Scott Jones aka @POPSRadio